IQ Incoming: Perfect organisation of your business trips and group travel
Whether group travel, city breaks, pilgrim travel, round trips or sports trips: With IQ Incoming you enjoy the advantages of a perfectly organized journey. Decide for yourself which destinations, sights, attractions and events you want to visit during your very own dream trip. As a hotel agency with many years of experience, we also have the best contacts to hoteliers and tourism providers. We will put together a tailor-made, individual trip according to your personal wishes.
The corporate services of IQ Incoming: The range of our perfect business trips
We offer business customers an individual and tailor-made company service – that's what perfect B2B looks like: Whether for tour operators, large companies or public services, we offer you all the tourist services you need, e.g. travel planning for trade fairs, meetings and conferences. We carry out incentive trips and company outings, plan and organize corporate events and provide professional invitation management. Our guarantee: With us, the successful implementation of your event is in safe hands. We have the plan, you earn the success!
Discover Germany, Europe and the world: Group tours of IQ Incoming
You need help and a reliable partner for your corporate events, meetings or incentives? We at IQ Incoming take care of the complete planning and organization of your business trips. Are you looking for the right trade fair hotel or an ideal conference location? Or do you need new ideas for a successful company outing? Or maybe an active teambuilding measure is just the right thing for your company? Please contact us: Our professional IQ team not only provides creative ideas, but also implements your ideas in a goal-oriented and smooth way down to the smallest detail. IQ Incoming: Our plan, your success!
IQ Incoming – Your professional hotel agency for B2B & inbound
You are looking for a professional partner for the planning and organization of your business trips? Are you planning a touristic group travel through Germany or Europe? Perhaps you are also interested in Incentives, teambuilding – measures or business travel? Or are your thinking about holding meetings or conferences but can´t find the right hotel? Then the IQ Incoming website is the right place for you.
What can you expect from IQ Incoming?
As a competent and innovative hotel agency, we offer you versatile and fully comprehensive tourist services from one source. No matter if you are a business traveler, a private person or a member of a travel group: We plan and organize customized business trips, group travel, successful meetings, educational conferences and unforgettable incentives. Perfect service included!!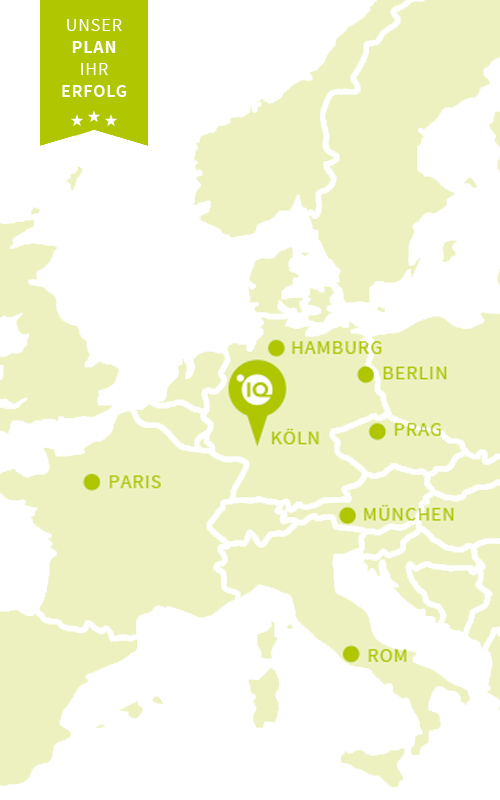 At our main office in the trade fair city of Cologne – with its view of the Cologne Cathedral – and in our branch office in Berlin our team of professionals is providing business customers and tour operators from all over the world with advice and assistance since 2010. Benefit from years of experience in travel know-how and service for corporate clients: Our exclusive contacts to hotels and trade fairs as well as to event operators, public festivals and other leisure activities enable us to offer you a well designed and best planned travel service. The extensive knowledge of foreign languages enables us to advise you not only in German and "op Kölsch", but also in English, en français, in italiano or en español.
Travel Services of IQ Incoming: See our range for tourist group tours
IQ Incoming also offers you the possibility to book tourist group tours. We design your personal dream journey: We arrange round trips, city trips, event trips, sport trips as well as cultural and religious trips according to your preferences. We ensure that everything runs smoothly in every detail.
Choose the right destination for your group trip. No matter whether you want to travel in Germany, Austria or Switzerland, we will help you to plan and carry out your individual group trip. In addition, we offer travel groups from all over the world not only trips to German-speaking countries, but also to neighbouring countries such as Italy, the Netherlands, Belgium, France or the Czech Republic In principle, however, we also operate as an international hotel agency and organise group tours all over the world.
Discover the most popular events in Germany and Europe with IQ Incoming
How about visiting the Oktoberfest, a Christmas market or the musical The Lion King? Or have you always wanted to experience the New Year's Eve celebrations in Berlin at the Brandenburg Gate firsthand? Even for football fans we have the right thing for you. Visit a first-class Bundesliga match or take part in a VIP stadium tour of your choice. IQ Incoming offers you a wide range of opportunities to visit exclusive events and shows in Germany and throughout Europe. Just let us know your special wishes and we will take care of the rest.
The advantages of IQ Incoming
We not only know the various destinations personally, but also the hotels, restaurants and other service providers in our programme. In this way we can arrange the best trip for you according to your special wishes, requirements and budget limits and make sure that everything runs according to plan during your stay.
We are available to you personally Monday to Friday from 9:00 to 17:00 in our offices in Cologne and Berlin. Or just give us a call at +49 (0) 221 29294900. You can also send us an e-mail to info@iq-incoming.de! We are looking forward to meeting you!